ADELE WOLKIN
MY LIFE WITH MEHER BABA INTERVIEW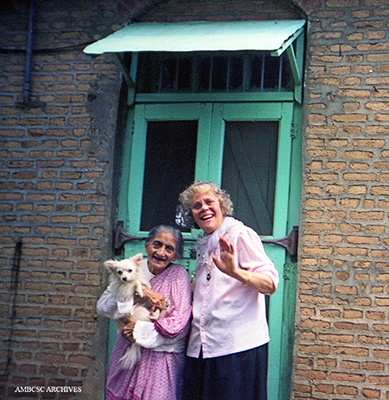 Our Friend Adele Nursing the Advent
Our Friend Adele Homeward Bound
Our Friend Adele Words Tell
Our Friend Adele Reconsidered
Our Friend Adele
See End of Interview
for Photo Libraries
Adele
Baba has emphasized that when he is drawing you close to him, he is drawing your family and your connections. This is a source of tremendous delight
Charlie
It's an inspiration for you to make friends.
Adele
There is something everyone's heart that reaches out and there is an archetype missionary about everyone who is drawn to the source of truths, or at least what they consider the source of truths. There's something on the good side of wanting to share.
Charlie
I love the story of when you were going to the train station.
Adele
In 1952 we heard that Baba would be corning, and it was decided that Baba would be coming with some of his men and women disciples in April, 1952, which he did. First Phyllis and I were invited to come for three weeks. We would be his guests. Then it was changed to two weeks and finally changed to one week. As we had lived with Him we were accustomed to changes and were not disappointed is there was a change in plan. This was one of Baba's training methods I would say. Sometime in late April, we found out that Baba would be arriving in New York by plane but then from there he was scheduled to go to the old Pennsylvania station. The old Pennsylvania station had several balconies. Phyllis and I went to the highest balcony and at the scheduled time this whole entourage with Baba most elegantly was walking across that lower platform. Baba looked princely in white sadra and flowing hair prior to the accident, of course, that would be 1952. How old was Baba then? Born in 1894 and he was 58. Along with Baba were the ladies for the first time Mehera, Mani, Kitty, Goher, Meheru, Rano and seems to me there was one other and of course Margaret Craske was there and Elizabeth, Norina was waiting for Baba in Myrtle Beach. Nadine had died and then there were the men. There was Dr. Dunking, and several disciples. As I looked down and saw then I said to Phyliss, "Oh, there goes Baba."
I was standing behind the pillar and looking down and I thought we had agreed we were not violating the order from Baba, that he would not be meeting any one. Here we were observing him, so I didn't interpret it that way but she suddenly had the pang of conscience and she didn't look but she took my full report. Then it was her observation that Baba had point up there and said FilAdele by that time I was transfixed on Baba. There is a contradiction there--she must have heard that because she said she never looked and yet she knew that happened. I feel that was conveyed to her by Margaret or someone. Margaret did come up and passed by us not noticing us. That was, of course, my first glimpse of Baba.
Charlie
Did Baba look up; did you get that feeling?
Adele
I got the feeling that he may have. He was a distance from us from the balcony down. Yes I do have a feeling, but only later we heard. Phyllis was told Baba definitely looked up and said Filadel, and it was then that Baba was trained for Florence in South Carolina, and then from there were cars that would meet the entourage and Baba and drive them to the Center. Our date was May 10, 1952 when we drove with John Bass and I think it was Agnes Borne, not to be confused with Agnes Barron, and drove to the Center, and finally were called into the Lagoon Cabin on May 10; Phyllis at 9:30 and myself at 10:00. Meherjee took notes and the memories of '52 are written based on some of those notes as well as Phyllis' notes and my notes. I did contribute notes now and then. What Baba said was fortunately written down by Meherjee and if you like, I can read it.
Charlie
I would like that.
Adele
It was written in Volume 14, No. 2, Baba said when we were called in and Meherjee's notes of our conversation, to Adele:
"I heard about you from Norina, Elizabeth, Margaret and I heard you from within. When I see such souls who love me, I feel very happy and strong. People like Phyllis are intimate ones. I love you because you love me so much."
Then to both of us, Baba said:

"These two girls, I heard so much about you both, Phyllis and Adele from Elizabeth Novena Donkin and Margaret."

(In those days our correspondence would go to Margaret or Donkin to Baba but the replies came from those and within)
"… and I feel so happy that I have at last seen you. Are you not nervous?"
"No. I am overjoyed." "Are you happy?"
"Very Happy"
"No more happy than I am in seeing you. When you know me, you love me like a little child. I am a child grown up. You (to Adele) are like money to me."
Anyway, that story is interesting. I told you that Baba had to repeat it more than once because Baba in having Meherjee or whichever disciple it was that conveyed the message from the alphabet board (in those days Baba used the alphabet board) said:
"You are like money to Baba"
I thought very self-consciously, why am I like money to Baba. So it was repeated the third time.
"Baba, said you are like money. His sister to Baba."
That wiped away the confusion. Baba said:
"I love humor. I love to tease and work hard here at various places while talking to you now and today Phyllis and Adele have met me and when you love me with pure, simple love, there should be no barrier. Love, pure and simple, then all doubts goes away. Until then, mind is tempted to doubt. Even if love is there, the mind goes on working, thinking this is right/wrong, but love does not bother. Do you love me honestly?"
"Yes."
"What more can you do for the beloved. I want love, nothing else. Love me and let God love us. That is what I want. When you love Baba, God will love you, and God's love means everything."
So Phyllis and Adele both, "I am very, very happy." "One, who is humblest of the humble, is the greatest of the great, but it has to be in all honesty, in all truth, better not believe in God than to be a hypocrite. So let us love, love, love. All else is illusion. So, Adele, what more can you do if you really love me? Do you love me?"
"Yes."
I think it's important to know why Baba was so compassionate and stressing that. When I was invited to live with the ladies, I felt privileged and at the same time unworthy and in one way it was grace to wait about 9 years to feel that at lea.st we were getting training on how to present ourselves to the master. It's like the people in England when they are presented to the queen's court and, of course, the analogy is from the ridiculous to the sublime. We did really have that opportunity to find out what made such noble women to begin with. My self-consciousness also did manifest by thinking here we are living with these outstanding women. I said Baba, I want to come to you but not on any connection with them because they are quite different. Norina used to say, "Baba says you come to him on the same platform as everyone."
Here was Baba in his great compassion. Baba is inside of you the voice and the heart and he just needed to boost me up because I really moreover came in 1952, after Baba said that when the choice was made between my going into nursing professionally at that time, had written to Baba and asked whether I should or return to the university and complete a degree, Baba said knowing your heart where it is and what it means to prove I want you to finish your degree. That's what he had to allow me to unravel those scars and I never could finish that degree. It was an opportunity to study much more of Baba, but I did not have the facility at the time to weave Baba through the curriculum standards of a philosophy department where the demands were high and intellectual standards and I never had that capacity. I had to acknowledge it. In meeting Baba this time, he knew very well that I hadn't finished it so at one point he reflected back what he had told me: "Did you finish your degree?" I imagine I looked very sheepish as Phyllis described it and I said, "No, I haven't, Baba." He lifted my whole spirit and he said, "Oh, but then I am your master." So that once and for all determined that I would not yearn for any kind of a masters in a field in any case. We had many days with Baba, it was a week and before the week was up so many wonderful things happened. There is a chronological account of that week. I'll look at the book here. While we were at Baba's guest house a number of times and sometimes there were just very few. This was the week and the year when the Center was not open to the public. Moreover, there were very few guests who were invited to stay on at the Center to begin with and on this one invitation Baba accepted the gifts of a few of us and the gift I had was a scarf I had made for Baba and the impression Phyllis had of it was that he tucked it lovingly in his pocket and I felt he was tucking Adele into his pocket. That was very sweet that she said that. I gave Baba a fountain pen and eventually sent a picture of Baba signing God Speaks, and she said he's signing it with your pen. I don't know whether it was just my book, but I think the inference was that he used your pen to sign the books, God Speaks. It's a picture I still have.
On another occasion we were invited to Baba's house which was built according to Baba's specifications. He was so thrilled he said this is my favorite home and I am always here. I think that's important to remember and when you enter Baba's house, you know he's here just as when you enter the Center. I always feel transported at the Center; you lose a sense of reality there. Literally, you're in another world and I think it's important to have both feet on the ground but when you're there you have the right perspective which is that God alone is real, and what happens out there in the Center and your world is really a play of God's shadow. If you had that perspective, you would do what Baba liked which is to be happy and not worry. He said that time and time again I'm going to just have an evening at our center in L.A. devoted to that subject of how Baba has given that as one of the main themes that we should not worry and be happy.
Another time when Baba did show the house, he took both Phyllis and my hand in his. It seems like a marriage ceremony. I said, "Baba, are we getting married" He pointed to his heart with both fingers and we interpreted that to mean we were married to him (individually) because certainly we are both very different people and I think if Phyllis were a man or if I were a man and she were a woman, I don't think we would get married. (Archive note: These pages are transcribed exactly as Adele spoke however on these pages are edit notes and one reference is to rewrite this paragraph. Archive will do no edits….}
Charlie
Sounds like some of the most exciting moments with Baba were at his house.
Adele
The most exciting moments were at the guest house, which was also called The House of the Eastern Women. During that week, Baba called us in frequently in the evening. At 6:00 he would leave promptly, but we were there with Mehera and Mani and the eastern women and some of the western women as well. One evening Baba said, "I want to play the numbers game. I'm thinking of a number from 1 to 22." Everyone guessed a number and it was incorrect until Baba asked me and I said 11. Baba said, "That's it." It was exactly 11 days later that Baba had the accident.
Charlie
How many people would you guess were there at the Center during this time?
Adele
In the photos that I have, the women other Phyllis and myself, were Ivy, Charmian, and I don't think Sparky was staying at the Center but she was visiting. People would not necessary stay at the Center but would visit the Center. I don't remember how many but not many. Very small group. We stayed in the Lantern Cabin. There was a story that I have told several times at our center. One evening in the guest house, Baba said, "I would like you to tell me a religious story or a funny story." The religious story I told him was that St. Peter in the time of Jesus Christ would betray Jesus as Jesus had forewarned him before the cock would crow three times and this actually happened. Baba at that point leaned forward and said, "But Peter loved me the most." Then Delia who was there in the guest house, said, "What was the role of Judas, Baba?" Baba said, "Judas served me the best. What Peter did he had to do, he did it consciously. What Judas did, he had to do, and he did it under veil." I'll read what Phyllis had written:
"The greatest service was Judas' betrayal. When he kissed Christ on the cheek, he did nothing."
This is a quote. This is taken from the literal notes:
"God did it all. He behaved under veil. He had the most difficult thing to do for the Master of all the disciples." In the evening, when Baba gave us the message which was so engraved in my heart:
"Nothing matters but love for God." And Baba said to us: "The Masts have this love. One must drown in the Lake of Fire and come out unscathed to reach God."
She quotes again something from the notes:
"Phyllis, Adele, do you love me? It is my love do you understand."
"Yes, Baba."
"Hundreds of years from now people will be talking about what we did here. What happened while the master was here and then I will come again, and again and again and so will all of you. Phyllis and Adele do love me. You have been with me before. I have known you since ages. You do not know how long. Do not worry for anything. Only love more and more and more. Let these words be inscribed in your heart 'nothing is real but God'."
Charlie
Had you heard that line before? Was that the first time?
Adele
No, that was the first time we had heard it. Baba open day before the week was out and on that day, about 700 people came. We had been privileged again to have an order from Baba. We didn't have too many orders during that time because Baba said we were his guests, and it would have been enormous grace to have had his order but he was having us play it cool. We were asked to stand on the back porch and guide people down the steps and onto the path, so they wouldn't wander off into the woods. In this way we saw everybody who came see Baba.
Charlie
I imagine some of them did wander into the woods.
Adele
I do remember a couple that did. I was with them. They didn't wander into the woods. Saturday, May 17, that was when it took place and then I think it was significant that when the company of black people came that they were the only company for whom Baba would stand up. That was 1952 and that was the same year in which the Supreme Court had passed the Civil Rights Law. There are many events which can be correlated with historical moments of great importance if one wanted to make that kind of correlation with Baba.
I remember when Baba introduced me to Dr. Goher somehow meeting her had very special significance. Needless to say, meeting Mehera was just overwhelming, but just to point out about my relationship to Dr. Goher, it's just that Baba took a little more time in our introduction and I believe that the outcome of that was that when Gore returned to India in 1952 with Baba after the first accident, she always had allowed me to be an intermediary in obtaining medical supplies and providing me with information about Baba's condition so that I could either do some further research or share it with others who would be helpful in medical ways. Not just to share it from the standpoint of news, because that was not my function. That was Mani's function with the family letters. But just sharing it with people who are influential medically.
One time when she wanted some information on continual pain that Baba had, unrelieved pain, and she said there was something that was being used - she gave me a clue or so - but it led me to go to a doctor who was appointed as John F. Kennedy's private physician eventually. She had not been appointed yet, but I lived near New York Hospital where she was on the staff and I have a beautiful letter from here because I had given her a book to give to the White House Library, which she did. At this time, I was able to reach her and find out about a certain spray which was used to reduce the pain that Kennedy had. Kennedy had as a result of his injuries from the war had chronic pain, and this woman physician had developed some kind of spray which reduced the pain and anesthetized the part in order to apply the injections. In any case, it was shortly before she had been appointed as a private physician by Kennedy that I contacted her. She gave me quite a lot of this medication, and she said we'll have to do this within this period of time because I'm moving to the White House. I obtained what I had to and eventually I sent her a book on Baba and she thanked me for it and said that she would present it to the White House Library. Throughout Baba's accident from 1952-1956, I was able to be an intermediary.
I'm sure Dr. Goher had connections with a number of people, but I was pleased because it enabled me to be used in many interesting ways. One of them was that I connected up with Dr. Kenmore, and that was an interesting connection given the fact that I was sharing material of interest to everyone but with Dr. Kenmore since he was the medical person.
Charlie
Can you think of any stories at that time at the Center that stick in your mind?
Adele
Yes, it was on the next to the last day before Baba left when we were standing in a circle, several of us. Baba turned to me and asked me what I was thinking? I said I was thinking about my brothers (I have three brothers). Will they be drawn to you, will they come to you? Baba said:
"Don't worry. In time they will come to me in time."
It was long after that we were still in the circle and I heard on the amplifying system my name and was paged to the phone. It was my brother on the phone and he said he was trying to reach me to tell you that mother is in the hospital and she is inoperable. She needs nursing care. When Baba heard he said I should go and take care of her. This was the time just before Baba was going to leave for that journey to California to meet his other centers--lovers that were waiting for him. I left for Ohio and when I arrived there I had a rather guilt complex about not giving my mother enough attention and devotion, although it was just that I had not really had any counseling about such a complex, but when I saw her in pain and suffering... I wasn't allowed to stay past visiting hours, and that bothered me and I reached out in my heart to Baba and asked him if I could suffer for my mother a little and relieve some of her suffering. That very night I took quite ill with an inflamed appendix, and it required midnight surgery. The curious thing is that after that surgery it granted me the wish to be near her and not be obliged to be with the rest of the visitors. They put me next to her. It was remarkable and a blessing and the surgery was such that I didn't know I had surgery. Either the man was a genius who performed the surgery, or it was meant to be. I was up the next morning and was with her for the duration. After that, we took her to my brother's home and eventually I did get permission from Baba to visit him in Hartsdale where he stayed for his convalescence a little bit.
Charlie
The mood just as you were leaving Myrtle Beach must have been pretty serious when Baba was about to leave. That must have been an interesting personality change in Baba, too, from the very loving to the very serious.
Adele
That's true. When I was told that I would have to have an appendectomy that night, I called Myrtle Beach and spoke to Delia and I told her I didn't believe in surgery. My brother is a top surgeon, but she said, "Baba said to do whatever the doctor says." So I got Baba's okay on that. There is an interesting part here which is when Baba said: "How much do you owe?"
Meaning, how much money do you owe. I said $15 and 5 of them to Phyllis. Pay those debts. Phyllis had a little more, not much and Baba paid our debts. Further, he told us to call on him if we ever needed help. He said we were part of his family. Things improved financially for both of us after that. Forgiving our debts obviously had a deeper meaning. That was very compassionate.
Charlie
That shows Baba's personal concern.
Adele
It was through living with the ladies that I developed a sense of saving. I didn't have that from my home environment at all. My family had enough money, but there wasn't any prudent sense of saving. Baba knew he had a lot to unravel in my life.
Charlie
It sounds like it impacted your family with a lot of changes for them, too in connection with Baba.
Adele
Definitely. When my father met Baba, he was really impressed. He didn't say too much but he and Mr. Frederick had lunch with Phyllis and I and they agreed that Baba was an extraordinary person with the emphasis on person.
Charlie
It cleared the air for them as far as putting their mind at ease.
Adele
They didn't have recorders in those days, but he said Baba had my father come in and he told him some stories from the Bible. See if I had only known but I was weeping all the time, because my father had separated from my mother and she was dying. I only had this reprieve to come to see Baba and I his home during that period. It was a respite, but then I'd go back and my father knew my mother was dying he was off in another world. Baba saw him which was very special. He sent my mother grapes and he said I want you to give her one every day with my love. He also said that because she was sick and suffering, Baba was suffering and that was special.
What happened with Elizabeth was in the beginning she had her mind totally focused on getting Baba here so she was not as sociable, and loving as Morene. Nadine was so loving to me and so I had to get used to Elizabeth who was very impersonal, and everyone knew that. But what also happened with Elizabeth was when Jane and the children came into her life, she had a really karma with that.
Charlie
It changed for her tremendously because she had a family all of a sudden. Isn't it amazing how Baba planned that for her? On her own she wouldn't probably have volunteered to go into that, but with Baba's push it suddenly opened up another vista for her life.
Adele
I met her when she was divorced from Mr. Patterson and they were good friends, he'd come and see her. Kitty once said to me, I never had the slightest feeling for a relationship--attraction for that purpose. Of course, she is extremely loving of her fellow human beings, but she was explaining the feeling of sex. When I got married, I said don't you think sex is terribly overrated, Kitty. She said I never felt any need for that at all. I said I feel a little bit like you do.
Charlie
The other thing is that being in the atmosphere, the spiritual love that was generated around him completely overshadowed any desires whatsoever.
Adele
That's true but she's talking about from the beginning. She seems to have had that taken care of. It's not that she was free.
Charlie
I'm sure that's true. You don't get to spend your entire life with Baba without putting in a lot of foot work somewhere.
Adele
This is what I mean. These books are like discards. In fact, I want you to know is there is anything that you would like to have please pick it up. Would you like this gardening book?
In our last discussion I was in Myrtle Beach. Baba arrived and we were able to accept his invitation of one week, it had been changed from three weeks to one week. This was in 1952 after 9 years of waiting. One of the nice things was that in living with these women, Norina, Elizabeth and Nadine, Baba had directed them to place Phyllis and myself on the welcome committee named the Universal Spiritual League, which was a chartered organization established to bring Baba over. We were designated as members of that. It was a small group, Phyllis, myself, Margaret Craske by that time had arrived from England. It was very exciting and it was such a privilege meeting all the people, those early western disciples through whom Baba did so much work. One time Baba said my work in the west will be done by a lot of women. Among those early women then in addition to the three with whom we lived for a few years were Margaret Craske who came over later. He was keen to re-enter her own arena which was the dance world. She was very selfless in her manner of coming as a guest to Elizabeth's home at the time when Norina was not well, and selfless in the sense that when she met Phyllis and myself she felt that we should benefit from her knowledge and dancing. Not being dancers at all she invited us up to the upper spare room to do these exercises every day.
I still recall and still try to do some of them. Altogether she made a place for herself in the household and at times helped in the care of Norina just as I did, pretty regularly. Throughout the years in that home in New York, the men normally that visited were__, Meherjee we met him before he came with the entourage in 1952. It was in the late 40's that they would come on business trips. They were both, as you know, tremendous supporters of Baba's work. I had my chance to meet what should be the ideal for all westerners who are part of the technological and capitalistic civilization. It was my opportunity to meet honest businessmen. Others that carne at that time were Dr. Donkin he was sent on a couple of special missions. One was when there was a plight of poverty in India. Somehow his visits here did coincide with the world situation to the extent that when he carne he was given an order from Baba to collect some money from Baba lovers for feeding the poor program. After this mission was accomplished, the reverberations seemed to be in India that the United States who up to that time had not given them any kind of funding now did supply them with enormous funds. This seemed to be a reverberation of a kind of mission which preceded it in Dr. Donkin's coming. Many times according to some of the women disciples there were situations of that kind where Baba's work with them would be reflected and echoed in a more universal way. We know that not a leaf falls except by divine will and that everything has its repercussions in the world. There are many instances recorded by individuals which make it so very interesting. I have in mind instances that Margaret Craske reported about some specific journey she had to make--had its wider implications later on. I was describing some of my experiences with meeting some of these outstanding disciples while living in the home on Gramercy Park and it was from that home that Baba in 1947 or 1948 invited Elizabeth and Norina to come back, and this still was prior to the opening of the Meher Center and still work was being accomplished. During that interval, I moved back to my home and Phyllis moved back to her home, Darwin and his family moved to Myrtle Beach to become caretakers and John Bass had a function. In this time when I moved back to my home I didn't exactly move to my home because I got a position in an east side settlement - in a Brooklyn settlement house with a lady whose initials were M.B. That persuaded me it was the right place to work. Interestingly enough, it was.
Her name was Mary Birch. She was considered the mother of the neighborhood for over 20 years. She had been the directress of the settlement house, and it has historic interest--a novel was written about this settlement house called A Tree Grows in Brooklyn. Mary Birch had adopted - she was a single lady in her late 60'swhen she hired me to be her girl Friday--secretary, assistant teacher, anything she couldn't do since some of the signs of old age were creeping up on her. She adopted a couple of very interesting children in this rundown ghetto district of Italian/Irish/Polish in Brooklyn. One of them was - two children who came from a family where the father had murdered the mother, and she had sent them to a very good school to the extent that they became professionals. It was while I was at this school that I had such fulfillment in working again with children. I think ever since I had my first job it had to do with children, and there was one particular child by the name of Beatrice Code-camp. I took an interest in her. While corresponding with Norina who was in India at the time, I enclosed a picture which include little Beatrice and another child and it was a group picture of those children who came to the settlement house. The group picture was Ms. Birch's way of providing a year book for them. I sent that to India and the response I got was:
"When I received your letter…" _______wrote, "interestingly enough, Baba had come into the room. Baba had with him a little magnifying glass and he said he would like to look at that picture because it was a large group picture and the faces were too diminutive to distinguish the features with the naked eye. He carefully looked at it and had an important request for you, Adele."
Not having the picture that I sent to her, nevertheless, I had a copy from the settlement house. Baba pointed out three children: the first row, the third child to the left; the fourth row, the child to the right; three children were pointed out, out of a group of at least 80. He said that those children deserve special attention. Thereafter, I gave particular two of them special attention. The boy was there in my mind, too, but he was so independent and not as accessible to another girl, and so I had him in mind. I'll conclude the story with something about him but I still have a copy of that picture somewhere.
Little Beatrice was child in a family of Polish parents who were rather overburdened. I think her mother did her best. I remember when I visited their home many times; the mother would never sit down. She was always eating standing up, or doing a wash load. I never saw that lady sit down. One sister had become a really loose young woman. Beatrice at that time was about ten. Her sister was about 15, and she was terribly involved with some kind of attitude where I couldn't reach her. I wasn't concerned about that since it was Beatrice that Baba had asked me to take a special interest in. The interest was greatly helped by the Shaws on occasional summer vacations. We both went to Schenectady, and they asked little B.B. to stay there and she stayed there for vacation. Monty sent her two little dolls which were very precious and when Baba came in 1952, in the home of Ivy Duce after the accident, Beatrice came and met him and so did her brother. The other girl was not as - she didn't come from as impoverished a home as B.B. but I did have a lot of interaction with her and saw her as much as possible. The boy was the boy that I had invited to come and meet Baba who had asked us to find the appropriate person to help him. He was looking for a boy to be his helper/nurse during his convalescence and this boy was very responsive and very happy to go. Baba was happy to meet him and when Baba talked to him, he said you don't have to pay me; I'll work for you anyway. Imagine! Most of these children that I worked with were Italian/Polish, but he was Italian very nice. He saw that Baba had his limbs in a cast and really looked pitiful, and you know how Baba plays the role and he probably played the role of a poor old man or something. This boy said I'll take care of you. However, it was not his destiny except he was fortunate to meet Baba.
Baba explained it to me, very nice, but too weak, too small. Phyllis' nephew was just right. That was one outcome of the interval of time when we moved away from the three women disciples on our own, and I think the important thing when I carne to Baba was that Baba consolidated the energy that one uses in adapting to the world for his purpose. That was such grace because it was in corning into Baba's fold that I had direction in terms of what to do with money. Prior to then I had no upbringing in terms of the place of money which is very important to give it its proper place and for whatever reasons you want to earn it and which, of course, is an outcome of blood, sweat and tears. It simplified my life in that respect. Personally, I still had much to learn about budgeting and really understanding the overall meaning of money. To this day, I still don't know what it is. Our whole economic system baffles me. Nevertheless, what Baba gives us is a simplification of life if we would accept it. It makes everything necessary for the sake of love and everything is for the sake of love. It really is somehow strange that we have these entangled scars that keep tripping us up. I think if we could at every moment know what we have experienced love, and if we could remain convinced without any kind of experimentation with anything else, that we would really overcome the worry and just enjoy the play, just as he does enjoy the lahar.
Charlie
In between all time Phyllis was at her home and you were working in Brooklyn.
Adele
I lived there and devoted to this lady. I grew very fond of Mary Birch. She ultimately learned about Baba and she was further befriended by other Baba lovers. I was particularly happy about her friendship with Kim Talhurst. Kim Talhurst was the English disciple that came from England to study voice with the Metropolitan Opera. She was part of Kimco and also for a period of time we met in her home. Kim and Mary Birch had a real rapport and a very good relationship. Mary came and met my mother, and she was a very real gratification to me because there's a woman who had done so much good in her life, and I would have been disappointed if someone like Mary wouldn't recognize Baba. She was an old generation of America. I think Mary was English and she had nevertheless taken to her heart people of every nationality and through her life's work Baba made her recognize the universality of the true teaching. She didn't call herself any one religion. It was her destiny to hear about Baba. That was a wonderful period of my life. The highlight was when we were invited to live with the three women disciples. That was a great highlight because Baba's love was so potent, just powerful.
Charlie
That was pretty much your honeymoon period.
Adele
Very much so. Baba supplied something through this settlement house which wouldn't have been too much of a letdown.
Adele
Kimco was in the 30's and she met Baba when he first came. The stories about Kimco are interesting because she was very devoted to Jesus Christ and a little bit like Kitty in the respect that before the replacement or the integration and the synthesis of Baba - or Jesus into Baba - took place, several amusing episodes happened, such as the one described in Kitty's book or in Mr. Purdom's book where after meeting Baba in the early years, on one occasion there was an incident which she couldn't comprehend so she disappeared. Baba not seeing her said we have to search and find Kim. Margaret and Kitty and whoever in that English group were told to go in different directions and search for her. I don't remember which one went to the Roman Catholic or probably Episcopalian Church of England and they found her absolutely in prostate posture position in front of a statue of Jesus in the church. They told her Baba was looking for her and we would like you to come back. It's told humorously in Kitty's book or Mr. Purdom's book because it's told in a way which brings in the priest who was baffled by this woman's behavior, and was so relieved when someone carne to pick her up. She was very beautiful. One other thing about Kim was the fact that she was given orders, just as the others were, used certain appointments, dates relating to the time when Baba would return and then the order carne to her if you don't come to this particular date at this particular place you will never see me again. That is what happened. When she carne to America to study with the Metropolitan Opera teachers, maybe she had a role. She was a charming woman and she was nice to me and Phyllis and decided to have the meetings in her home which was in Manhattan. This was prior to one of Baba's subsequent visits. As you know, I met him in 1952 and 1956 and 1958. I don't remember which trip we were anticipating and we were always anticipating Baba's return. Kim knew that, and we thought surely the attempt would be made and whether the attempt was made or not, Baba's statement had to hold true. We felt sorry about it, but it was just not made possible for her to see Baba again. I believe she really suffered.
Charlie
______ brought things between her and Baba each time he came to visit so that she couldn't get away? That's sad.
Adele
That's very sad. Although if you talk to Margaret, she's the one that always said that Baba said Kim was part of the circle so according to the interpretation of Margaret, Kim was part of the circle. She just had to play that role just as Jean had to play a straight role. They all were very powerful women. It is baffling how even someone like Jean whom I also knew well could write and then write a book like Soaring Sun words.
Charlie
Something totally different.
Adele
In Soaring Sun she denies following the Avatar. She told me personally when I met her…. I don't mind telling this because the finale is so beautiful so in between what happened and Phyllis was giving a talk near Escondido, Jean' was scheduled to give a talk that day, too. So I approached Jean whom I knew from New York. She was very good to me in New York. She always saw me. Of course, I was baffled when I saw her because she has a picture of her own master on the wall. I said, "Jean, we're here and Phyllis will be speaking on Baba, on these books. You still are a Baba disciple?" She said, "I have always loved Baba. I will always love Baba." She said that with such feeling. As you know, she was somewhat of a dramatic person; very beautiful person, but "I can't accept him as Avatar". That was in 1964. Then when I returned to California in 1977, and getting oriented to the fact that this time I would probably live here longer because when I came here in 1963 for the first time as a nurse at the Hollywood Presbyterian Hospital, I knew it would be for a relatively short interval, but this time in 1977 I knew I would stay longer. I wanted to search out people like Jean and I found her in a convalescent home, Santa Monica. I took a real family interest in her, as well as a nursing interest and found that she had separated herself from the family. So that began the project that Marguerite and I undertook together pretty much of rehabilitating her into the Baba family. So many people helped. Patty Thorn was somehow very drawn to her; Leah Mullin, very drawn to her, but we were always in the background supporting the places where she would stay and bringing her things. We were the steady background, and then there were these highlights. As it was from such a bafflement to think anyone like Jean could be an apostate, it was such a fulfillment and catharsis to see her gradually talk about Baba. In fact, when we first met her, she didn't even talk. Her paralysis had affected the right side of her brain -the speech center. The amazing thing was that she did talk and she talked about Baba. Finally, when I wrote a couple of times to India… Meheru wrote back, "Jean has come back to Baba." Meheru was convinced.
Charlie
I remember at the very end Patty said it was a wonderful blessing to be around her because she had such great love for Baba. That was an interesting story.
Adele
It meant a great deal to Patty. It brought something into her life which was something we should hear about some time. The same with Leo. Both of them have a relationship with him which they should tell us more about some time. Marguerite came to Baba through her.
Charlie
That's interesting in itself. At that moment were you getting ready for Baba's return? Were there a lot of things attached to Baba coming back the next time where the trip was changed?
Adele
Yes. In 1952, Baba had given me the certainty that I didn't have to worry any more about returning to that academic scene, and I when I returned after that and Norina was no longer any one that was going to continue with spiritual thought transmission and so you remained in Myrtle Beach (she did not return to New York).
Charlie
From that period you were with your mother and then you went to the school or to …
Adele
No, I was a Baba lover that had this wonderful opportunity to be with someone like Mildred Kyle. I told the story where I was in the circle and Baba said, "What are you thinking?"And then it was my brother who called on the phone and said mother is in the hospital and it's time you came back. When I returned to my mother in Cleveland, the plan was for her to be in as happy an environment as possible which she felt was in Florida where she had an initiated some kind of rooming house there. We went to Florida together and I was to take care of her. There were no treatments that were planned in terms of her medical care but just a lot of tender loving care. At that time, while we were living in Florida near Coral Gables, I enrolled in the University on a part on a part time basis. I placed an ad in the school bulletin inviting anyone who was interested in Eastern/Western philosophy and got responses from some very fine people. I couldn't say Meher Baba .because nobody at that time knew who he was but I did say the Baba Baghita and people who wanted to study the Baba Baghita got in touch with me. When we began the group, the Baba Baghita was introduced but I asked if they had read Meher Baba? They were eager to learn who this was, and by that time I had met Meher Baba, this was in 1952-53. I was just on fire. They caught on and as Baba said, love is contagious. They wanted to study Meher Baba which was very gratifying to me and I had a whole set of discourses which I donated to the Philosophy Department. Sometimes I've reflected on the fact that 1953 and '53, well, really the latter part of 1952 and 1953, I was around this area which is where Irwin Luck lived. One of the main members of our group was editor of the local paper and his wife. They were influential people and they got very interested in Baba's discourses so I don't know. Irwin heard about Baba through a book in the library that fell on his head. How old would those boys have been in 1953?
Charlie
They would have been in their early teens.
Adele
People like Adah Shifrin destined to be Baba lovers and others. It was interesting that at time there was a whole group. There were at least ten of us in that reading group and Baba had touched them in his unique way. I had started to study education classes and in one way or another it was shown to me that I was not a good teacher on that level -­ high school level. I was very critical. Baba doesn't take away the critical sense. I was critical of something in the school system. I remember one thing that I found too irreconcilable with my scientific side which is a little more sophisticated than with some people. In every building the school had the Coca Cola machines and junk candies, and I found that irreconcilable with the institutions. Everyone would drink and eat a whole lot of this, and I went to the dean once -- I forget who it was and I said here we are in this wonderful land of orange juice and it's strange that we don't have machines where you can get a fresh drink. I got quite a response. Believe it or not, the response was I think you should talk to the counselor, because you're so critical. She sent me to a psychologist because I had made a practical suggestion. I dropped the subject. At that time, for one reason or another the curriculum didn't leave me thrilled and I couldn't apply myself as I wanted to. Suddenly on a weekend, my roommate and I went to visit St. Petersburg which is where Dr. and Mrs. Love lived, and their guest was Mildred Kyle. Mildred was the one drew others to follow Baba like Warren Healey, and the Loves and some others. We had a very strong Baba meeting, and some new people came. One of them was a lady who was destined to tell Dr. Kenmore about Baba--Rose Garbady. So it was decided on that weekend by Mata and Dr. Love that it would be very nice -- No, it was the weekend after my mother died that I would stay there and take care of Mildred. They had a separate cottage for here. It was ideal. I agreed to that, and thus began the relationship between myself and Mildred Kyle.
Mildred met Baba when she was in her 90's just like Ruth White and both these women had belonged to metaphysical and spiritual groups which prepared them to meet the highest master. Yet, in Mildred's case, when she told her theosophy of Chala there was now a chance to meet one for whom they had been preparing, a small number responded. That was true of Murshida Martin and Ruth White. Ruth's background was interesting too. I know a little about her. This was shortly after my mother died that Mata extended that invitation to me. I went back with my roommate and I ended my dormitory life there with her and that was the end of my preparation for teaching - I think I was trying to prepare to teach on a college level, and that didn't suit me at all. I was wound up being a Montessori teacher. From the time I heard about Baba I was very fiery, and I felt it had to spread. I again put an ad in the paper and said we would like to have a meeting on the Baba Baghita. This was in St. Petersburg and I was going to do the same thing. It wasn't totally with the consent of Mildred. Nothing could stop me. She said, "Adele, you are exhausting me." She said that half joking. I said don't worry, I'll be making all this tea and stuff, we were always gracious and had big teas and all that. I put an ad in the paper, and out of that ad came a very fine Zoroastrian physician for Dune Birdy. Then he went to India and Mani mentions him in a letter. There were two people. Dr. Birdy did not go to India; he came to Myrtle Beach to meet Meher Baba in 1956. There was another man who did go to India, but Birdy came to Myrtle Beach. Rose Garbady came to those meetings. She was part of a group that Dr. Love was very much involved with, and that was much more a psychic group. Mildred and I realized what they were trying to do but Mildred was very wise and very intelligent and she never criticized them at all because Dr. Love and Mata were convinced that he had physicians on the other side that were helping him. It was a very good thing we had our Baba reading group.
Charlie
Sounds like you were the key to get it rolling at that time.
Adele
In a way I think that was meant to be because especially in St. Petersburg there are so many of those psychic groups. An amazing number. We used to go to some of the meetings with them. This mother Kyle was very conciliatory. We would go to those meetings, and they would manifest this ectoplasm in front of us. The first thing I got was a message from my mother. Rose Garbady came from that kind of group but she was very interested in Baba. She said when I go to New York, there's a Dr. Kenmore there that I've got to tell about this, and that's another story. So when she came to New York, she got in touch with me. I invited her to a meeting at the Winterfeldts. We were reading with Fred and Ella in those years and John Bass, and she said I'm going to bring my friend that I told you about and Dr. Kenmore came with her. The first impression of him was this very erect man. He carried himself like a king but perceptive. Nothing rude about him then. He was keen to know some answers. Because I was the link with Rose, I also was the link with Harry. I was studying at Queens College and my visits were sometimes based on the fact that he was known as a good chiropractor and knew the anatomy, would talk about the parts of the body which were afflicted if you were his patient. I said, "Dr. Kenmore I have to take a test on the muscle system, could you tell me about it." He pulled down a whole slide. He taught at the chiropractic college. I valued that man. I had high regard for him, and found him dynamic and when you like someone you overlook over things. These were the pre-Anna Rosa days. We were good friends and he was not that brash because he was learning. He was a humble learner of Baba. I read to him hour after hour. Margaret Craske read to him, Phyllis became one of his patients. He slowly came into the circle and then the famous letters I got from Goher that is a separate story.
Mildred's daughter was married to one of the first assistants to Frank Lloyd Wright -- Willardson. He was with us at the time when I lived with her. The daughter had died, May, and it was a jolly period. Dr. Love and his conversations with so and so from the other side. A lot of fun. The first time I came there you've got to go to this séance; your mother can come through. I said that's interesting and my mother came through. She told me this is 1956 she said you're going to go to India. She said I understand you now as I never understood you when we were together. She said you've got to watch your throat area - that particular chakra, although she didn't use the world chakra because that's your Achilles heel just like your brother--one of the twins. She tried to give us a little sensible advice which is sometimes unusual. Many times you contact those people and they don't tell you anything.
Charlie
Baba must have wanted you to have that connection to know that everything was relaxed on that issue.
Adele
She said I now understand you better.
Charlie
There's a desire that if only.
Adele
Baba has given us opportunities. I went with Phyllis to Santa Barbara when she was invited to speak at Violet Gilbert's church - the Purple Heart. That was another time when I believe that everyone was ready for that. Even Kitty said I don't think everyone is ready for that, but you were ready for that. She told someone else who asked her, "May I try to get the same messages that Adele got through Violet Gilbert" (that kind of a reading of the Akashic record. This girl said Kitty told me that it was all right for Adele to get it because she knows how to take it and I don't think you're ready for it. What Violet Gilbert provided interesting insight into the fact that those past records are read. That seemed to be true of my life. I was married then and she seemed to penetrate to the core.
Charlie
When you're ready to hear something, it makes good sense and opens doors. You could hear something about it earlier and it would make no difference to you. I can easily see why Kitty would say that -- how she had the training from Baba.
Adele
She told the other girl not to have it done, that it was all right for me.
Charlie
If the person isn't seeking it just shows up. It was meant to be that way. When you are looking for answers you are not looking at Baba and it's a good thing sometimes to close the door.
Adele
On the whole, that was the extent of my experimentations in the psychic realm.
Charlie
When did you get back to living with Phyllis? Was it after?
Adele
Right. After I had helped Mildred, she returned to Myrtle Beach. In Myrtle Beach finally Mildred died. After I had to go back and finish my nursing. That's when I entered nursing in 1954. It was when I returned that I went to the meeting and there was Dana Field sitting there.
Charlie
That was within in weeks of the men's gathering and he must have just packed his bags and told you he should go.
Adele
Seeing him there and relating it to the time schedule, I probably gave him a sense of urgency that it is time to make that decision. What an opportunity. That's when I saw Phyllis there. She may have talked to Dana too.
Charlie
The first must have started with him at that meeting because on his own he probably would not have gone had it not all of a sudden been bringing the point home to him that he might not ever get this chance again. He himself would say he was green behind the ears when he ended up in India--he wasn't ready for what was to happen to him.
Adele
Baba permitted it. He sent back Max from Switzerland--he felt he wasn't ready. He also told the Japanese Goah. He allowed Dana such compassion.
Charlie
He knew Dana was the right person to be there. The way Dana relates to Baba it was important because he practices rehearsing the moments that he was with Baba and all those moments must be going over and over in his mind. He wasn't any lightweight individual to be there. His mental capabilities were tremendous. On the outside it might have looked like it was holding him back, but Baba knew that wasn't holding Dana back at all. That was the thing that he finally got to Dana through.
Adele
There is a period that we felt was interesting. That period which involved me in helping with needs of Dr. Gore in treating Baba.
Charlie
We touched everything on staying at Ivy's house and the people coming and going. Do you have anything that was peculiar to you? You were taking care of your mother at the time.
Adele
Baba had told me that I had now to return and he gave me grapes to give her. He said give it to her with my name. He certainly approves that I take care of her. From there, we took that trip to the zoo.
It was arranged for Baba to go to the Bronx Zoo and it turned out to be a rainy and it also turned out that Charmian who was going to wheel Baba since he was recuperating from this near fatal accident. Nevertheless, he unceasingly worked doing everything e had planned to do which was to have open house in the apartment of Ivy Duce in New York which he did. Baba attended certain events one of which was this trip to the Bronx Zoo. We went with Baba - Meheru and the women went. Meheru was still protected from the observation of strangers, men or women. The arrangement was that a few of us were to shield her in the park. I think that it easier to shield her because it was a very misty day. When we started out it was not but then the drizzle started and I had a coat. I wasn't prepared for rain. No one had the sense to find out what the weather would be like. I took my coat and covered Baba and he accepted that. Darwin was with us so he replaced Charmian whose strap of her shoe fell off and she had to hobble along. They had a little trolley that would take you from animal house to animal house. Baba boarded one with us and we went to the house of the penguins. That stands out because I don't remember how many other exhibits or houses Baba wanted to visit but that was one that was significant and we all knew that Baba had to go to the house of the penguins. At some point, it was discovered that the penguins are a link between two animal kingdoms. The description of that is done very accurately by Phyllis, because she said that when we entered that she noticed there was one outstanding penguin who seemed to be a leader penguin who very perceptively bowed down. No one noticed but Phyllis, but I think that's true. Phyllis noticed because she was a keen observer. Who knows what Baba was doing? The penguins are well organized and conscious of their kin and they seem to be intelligent.
Charlie
Darwin had the experience of getting lost with Baba in the wheelchair in the parking lot.
Adele
Darwin?
Charlie
He took Baba on a walk back to the car and no one knew where the car was and everyone started going in different directions. Darwin went one way and then the other way and they couldn't find the car.
Adele
At that point, having visited Hartsdale and having brought this young man who was one of the candidates to serve Baba, I was coming close to the end of my stay in New York because Baba had approved that I leave my mother and come and, of course, it was during that visit that my father also met Baba. I had to return and continue to take care of her. So, that was shortly before Baba left for -- where did he go in 1952 from New York--did he go straight home or to Switzerland?
Charlie
Switzerland for a while when he was recuperating and I think Charmian and Duce went along, and maybe Don Stevens, too. Charmian was there.
Adele
That's right. Baba was to go and recuperate in Switzerland to some extent. After I had returned and continued to take care of my mother, and gave her a grape every day. Baba had told me to give her the grape with his name. I think she was lucky to be suffering while he was suffering. From there we moved to Florida, which is where I continued to take care of my mother who was terminally ill. I attended the University of Miami part-time. I placed a notice about an Eastern/Western reading group and got many responses, enough to start a little reading group. The group began with the study of the Baba Ghita because at that time in 1952-1953, it would have been perhaps a little extreme to just start on readings of Meher Baba. Interestingly enough, the people who came were ready for the transition into Baba after we read the Ghita.
Charlie
Did you come up with that idea to have an East/West reading group?
Adele
Yes
Charlie
That's a smart idea.
Adele
You did something like that.
Charlie
That was revolutionary, that was one of the first things - through a reading group at that time.
Adele
It isn't too strange for one going to a university to start a group.
Charlie
But that would be the first time Baba would be introduced that way?
Adele
It would be the first time a set of discourses was given to the Philosophy Department and that I did give. Always my emphasis in trying to introduce readings into the schools, but in my present understanding of Baba, the emphasis is a little more on what I do as a person. Let your life itself be his message of love and truth, but I was still very much conditioned by western society's emphasis on the intellect. I introduced the books to the philosophy department and the head of the department thanked me for it. He was liberal in his attitude of not questioning it and I always would say read them yourself but I need the commitment that they will be placed in the library. I had this letter from the physician from John F. Kennedy when I gave Baba's writings to her. In return for a favor she did for Baba, I gave her this gift. She said thank you very much and these will go into our White House Library, so it was not just personal gifts.
Charlie
Did any of the people in your group come to Baba?
Adele
Some of those people took a real interest. Someone came from the group that I moved into in St. Petersburg in 1956 to see Baba. I had been invited to stay in St. Petersburg after my mother died. I was left a little distraught and visited Mildred Kyle who was the guest of Mata Love's in St. Petersburg and she and Dr. Love had met Baba in 1952. They came on that famous open day when he saw the public. Otherwise, Myrtle Beach, until 1956 was closed to the public. Mata and Dr. Love on that day received a very interesting message from Mata Love, who was the osteopathic doctor, and she had no professional background but she married Dr. Love. Baba told Dr. Love in 1952 that the medicine of the future would utilize electronics and nutrition much more. At this time he was already using that a great deal in his practice.
They invited Mildred Kyle to stay with them and when I visited them it occurred to Mata and Dr. Love that since Mildred was often left alone in a little house where she was staying, it would be nice if I could be with her as a companion and helper. It seemed to be Baba's guidance and grace to afford me that chance to be with a woman of such statute. She had been very important in the development of theosophy on this Western coast; a good friend of Amy Peasant. She had been a leader in developing theosophical groups. A main aspect of their teaching is the Avatar will manifest and we must be prepared to recognize him. Mildred had recognized Baba. She was a healthy and young type. Even in her 90's you think you were looking at a woman of 40 or so. She had a good constitution. Mildred had a very real place in Baba's work and she is there next to the Samati with the other women like Marina. Part of her ashes are in Myrtle Beach. It was through Mildred that Warren Healy heard of Baba. Like other religious heads, she told them she felt this was the Avatar and whoever was ready could come with her. Very few came.
Charlie
Murshida recognized Baba immediately, but her followers dispersed. What about Mildred Kyle.
Adele
She recognized who Baba was and became a Baba lover and I don't think leadership - she didn't give that a second thought. She was an avid reader and a dear old lady. When I stayed with her and helped her, I arranged for a reading group again, an opportunity to meet people. I put an ad in the paper but I don't think I told Mildred. She half complained when she heard about it, "Adele, you're exhausting me." But she enjoyed them. We arranged tea and had newcomers and certain ones who were interested in the type of spiritual search that Mata and Robert Love were interested in. That was on the borderline of psychic phenomena and Mildred and I would not dispute with them because they were our hosts, but on the other hand it was comical because they did have people who were interested in spiritualism and psychic phenomena. It was learning period for me. In New York I had visited psychics but the psychics in St. Petersburg were full-time psychics; they really had certain development which was very interesting. I didn't get addicted to it but learned a lot. It was helpful. Dr. Love had consulting doctors on the inner plane so he claimed and that was interesting. When he had a hard decision to make on a treatment he would go into a group with these fellow psychics and decide from the consulting psychic on the inner plane what to do. Among those patients we also had -- Dr. Love and Mata had this double interest in Baba. Among those people and a newcomer was Dr. Birdie of Zoroastrian and he was fascinated and he said he wanted to meet Baba and he went to India. A number of people that you now through your life and tell. New York someone who had read Baba's books I'd left in the library and met at school, he came to India. He was a blind professor. Now we come to another blind person, Dr. Kenmore. The lady who told Dr. Kenmore about Baba was Louise Oberkirk. She was a wealthy lady, humorously her personality was that she knew that her home was partly clean by the fairies, she just knew that. She was a charming lady, and we read the discourses and Mildred would explain things to her and one day I had to leave to go back because Mildred was going to Myrtle Beach. Louise said she would be returning to New York. I think that was originally her home and in New York she had a dear friend, Dr. Kenmore and she wanted to tell him about Baba. She said Dr. Kenmore was real seeker. She didn't say anything about his eccentric nature at all, just that. He had a number of women admirers. He had a lot of charm. Finally, Mildred went to Myrtle Beach. I went to Myrtle Beach, but not with Mildred at that time. It was there when Kitty said you have had many opportunities for nursing and it would be nice if you could become a professional nurse. My mother had left me funds so I could do that. So, I did matriculate to….
Charlie
There was that scene in your mind all along.
Adele
Before we left Elizabeth and Norina on Gramercy Park in 1947, I had written to Baba and I had asked if I should go into nursing or continue working on some degree in philosophy and that's when Baba said - reading my heart - said, finish what you started in philosophy, work toward that degree. I think everyone does not like to do half measures. You want to feel you have made a full effort even if it's unsuccessful. I did make the effort but I saw it was not possible to try to bring Baba at that time into a thesis and have it accepted. I couldn't do that. Charles Haines eventually did that beautifully, and so did others, but that was back when I didn't have the perspective and I didn't have that capacity. I really wasn't in that category of intellectual at all. I know why Baba did it, though. Because Baba wanted to be 100% honest.
Later, I was in Myrtle Beach when that plan for the one zone livelihood arose and it was a good thing she presented it again, because at one time Baba had given me the two choices - I had given him the two choices and he chose for me to return to school. It was a real direction. He said go back and finish that and when I met him as you know and to repeat that story in 1952, he blew away all my anxiety. He said I am your master. By that time, when I returned to Myrtle Beach after I'd helped Mildred, I was ready to make that decision and I entered studies of nursing.
Charlie
That was in New York?
Adele
That was in Queens General Hospital.
Charlie
Did the Monday night meetings start around that time? When did you first start gathering at the Winterfelds?
Adele
I entered school in 1954. I think they could have started around 1953-54. In the beginning those meetings were initiated when we lived with Norina. It was Norina in the Gramercy Park house who once in a very inspired way said, we must have these coming together meetings and we will call ourselves the League of Flaming Hearts. She was a dramatic person in many ways but always with genuine love, and that's how she used her flair. So, we shared reading and went around in the circle and read. It was very few people. This was not open to the public. Norina had a few at those. As you know, the Winterfelds heard of Baba through Ivy Duce and that was after the accident. They were managing a house where Ivy lived. It's written very well in the Awakener.
The Winterfelds learned about Baba and it's an interesting transition from Ivy's version and Baba and the ____ background to just Baba without any ism at all. That is beautifully told by Ella some place in the Awakener magazine and it was Ella even before Fred who wanted Baba pure and simple and no attachment to any other individual. When their meetings started it must have been 1953-54, it was in their home, someone else's home or in the studio of Alexander M who gave us his place. At one time, Kim Tallhurst, from England, came to study at the Metropolitan Opera, and it was at her home. It served an important function and kept a certain nucleus of people together and always anticipating Baba's return, every year.
Charlie
Every year there were thoughts he might be coming. When did you move in with Phyllis? What year was that?
Adele
I moved in with Phyllis after Elizabeth and Norina were called back to India in 1948. I got placed in a position of settlement house in Brooklyn. When I completed my year at Queens General Hospital in Premature Baby Nurse a year or year or two and that is when I moved back to New York so I could share a place with Phyllis and not have to travel to meetings from Queens to Manhattan. It would be after I graduated in 1956.
Charlie
Two years after you saw Kitty and she suggested you take it up.
Adele
That's when I graduated and I got my next position was at Lennox Hill Hospital, and after that Phyllis and I were offered an apartment. We had lived together in several places. We lived in Spanish Harlem which was in the early 50s and that was in a very poor neighborhood. We were both poor at that time and we never went on Welfare. Baba always saw that we had enough to manage and to save. When Baba came into my life I got an understanding of what money was more than I had previously and so I did save money either to go to Baba in one place or another to save for India, the Center, contributions. I think the whole idea of tithing is very necessary. What is money all about? It's the product of our work, blood, sweat and tears. So what we do with it we give it back to the source who provided the opportunities especially if he left us in the current situation just as in the past. There are ample opportunities to use that money directly for Baba's needs. What could be more of a privilege than to use it directly for something that he approved of just as today is the deed to the trust with all the provisions and to be able to do that is such a relief, to know it's going there? When you have to make the decision whether to give it to some big charitable organization or maybe open up your own charitable institution or something, you don't feel that's very fulfilling of everything that God has need of. If he tells us that if you are serving God the Avatar you are serving everyone.
Charlie
That's a very nice thought. I was thinking at that time Baba gave you a request which was to go on a silence when you were in Spanish Harlem. That must have been an unusual experience.
Adele
We got all through those years. That was tremendous grace that we could get these messages that were given to the close ones in the East and in the west. Those messages would generally come through the Winterfelds and they would be distributed to all who considered themselves Baba lovers. In participating in that, we would gain enormously spiritually. It was such a wonderful way of focusing your energy. All through that time, Baba gave us orders and in Spanish Harlem, as well. I think it was then -- I'll have to collate all these years -- that we were given the order for at least a month of abstaining from food other than tea and milk and repeating many, many hundreds of times this phrase "Beloved God, help us all to love you" or something like that. That's the kind of interview I would like to have with you to pick up on that. I used prayer beads because you had to do so many - thousands of times. I'm sure I messed up a few times, but how we arrange to do that and still hold a job I don't remember. I know that in one position when I worked at Columbia Presbyterian Medical Center, Dr.________ was the man I worked for and I told him I'd be silent for some time and he barely batted an eyelash and said, "I understand that. I'm catholic and we have periods of silence." It was his father who was one of the doctors that had to decide on the sanctity and whether -- the hospital in New York that is named after a saint -­ he had to decide whether she was to be considered beatified to be called a saint. He was one of those. He came from an interesting family. He didn't give me any problems. I did what I had to do.
Charlie
Do you find internal changes with all the different orders that Baba gave? Did things happen within you all the time?
Adele
Yes, I always found that if there were really a big question from the beginning (that's why I liked Baba's books so much) I would use those books like you use the I Ching. I would open up and I still do today, to a greater extent today, I begin to distinguish between the voice of intuition and my own emotional drives. I'm much sharper about that, but in those days, I was pretty desperate at times not being able too well to hear that voice of intuition above the clamor of the emotions. But I'd open the books a lot. I appreciated reading Baba and the importance of it. I always like Phyllis so much for that reason. She was never a silly dreamer like some people. She really did back it up with understanding what Baba was trying to tell us. We followed many orders and it probably saved me from a lot of mischief because my emotions were pretty wild.
Charlie
Sounds like you were kept busy by Baba in focusing the energy on what he wanted you to focus on either fast, silence or prayers or whatever. It must have been a full period of time.
Adele
Even though he was not in our company constantly like that select group of women, but with the many messages and letters that came from Baba and in those days he would be very aware of a letter no matter whether Donkin wrote it or Meheru or Margaret. Our early letters came from Margaret, Kitty. That's when they were in India, of course, and Dr. Donkin or Dee. Some of those letters I have and some I have lost when I was in New York.
Charlie
In those letters you feel Baba was aware of everything that transpired?
Adele
Yes. You would sense - I would sense when a letter was in the mail box - I mean the power of it. There was no question was on its way. It was just as if he had these bridals and these reigns there, and was right in touch with you. I can read you an early letter to give you an idea. This is one from 1965. Actually I have two letters that were sent after my marriage and that was 1965, but I wanted to show you some earlier ones. We could come into my marriage later on because those were letters of tremendous consolation and compassion. I felt Baba coming down to my level during that period of great anguish and such compassion and I was so lucky.
Charlie
He was picking you right back up again.
Adele
I could show you an early letter from the file.
Charlie
If you would like to.
Adele
This is the letter that shows Baba's compassion.
Charlie
Let's go into that next time when we have time to go into that.
Adele
If there is workshop where someone is having a lot of marriage problems I don't mind sharing.
Charlie
When you look back in your life, you realize Baba was at every corner, every turn. Everything in life has a meaning.
Adele
It should be made use of creatively. I never talk about it unless it's of value to the next value.
Charlie
Unless it's in context with what's necessary for people to know.
Adele
Exactly. I took out a batch of important letters for our meetings here at one point and then when that wasn't relevant I put them God's know where and I think they're still here. All of those are letters but the ones I took out for our meeting were just apropos of this discussion.
Charlie
Just relax and we can do this next time.
Adele
The part that is painful is that when I was in New York and so keen to get to Myrtle Beach and start a new life there and George was still with me and he now has a serious problem, and so I was so keen to get there that I left a whole trunk full of important stuff. Phyllis has a lot of things. I had Baba's toenails and his hair and things like that and pictures. I'm glad she did because she's the ideal person to keep it.
Charlie
Quite often a letter would be on its way and you would know you'd feel it electrically in the air.
Adele
The electricity and the concurrence of events to prepare you to receive it as it should be received. This is interesting; it is also typical of the type of thing we would get. This is from Mani from India dated June 1, 1956. "Baba wants all concerned informed through the group heads that all those who love and follow him, if possible the interested ones as well, should observe complete silence on July 10 from 12 p.m. of the 9th to 12 p.m. of the 10th and partial fast. During the 24 hours take two cups of tea or coffee with milk and sugar if preferred, and one on the evening of July 10." They always keep us busy. Here's something from Mani he always sent them with such charming notes. I have many of these. This is Mani. "Ever dear Adele, 7/25/60 - "Have just been writing Phyllis. Am sending the most loving acknowledgements of your letter of the 26th of June to camp address." That's when I was a nurse in camp. "Hope you had an interesting change. Artie says he sent you on the 6th of April 50 copies of God to Man and Man to God in ten packets of five each by registered sea mail. Hope you have received them all by now." They sent it to me to send to Carrie in Israel and in one way or another Baba always brought me in as a link. He called me in to tell her when to go home, and all that. It's wonderful to know about Irwin's tape recorded account - that's that famous. Did you ever hear his tape recorded account of his first trip to India?
Charlie
No I didn't hear about that.
Adele
It is a classic in his full New York accent. It is a classic. He and his brother. I have it but it is reel to reel.
Hu Knew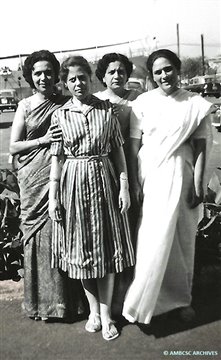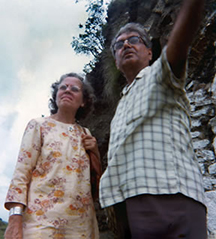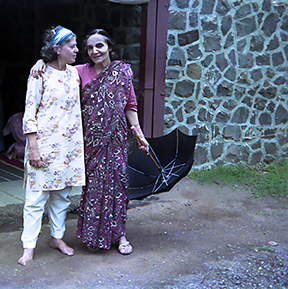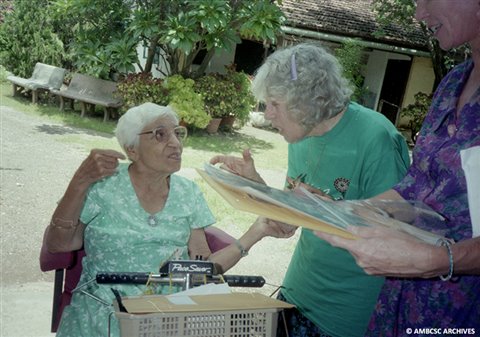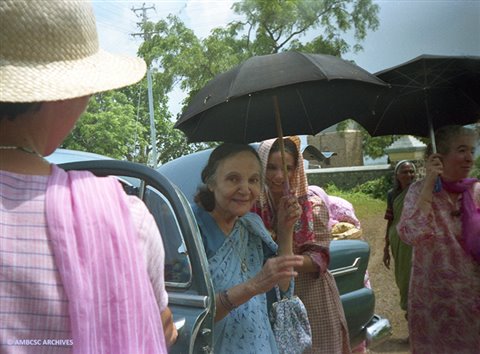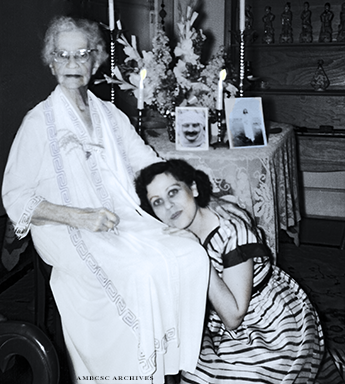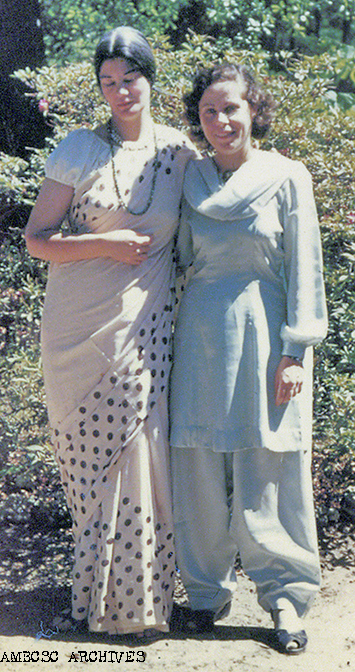 A Message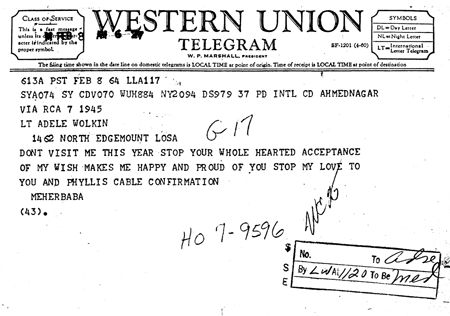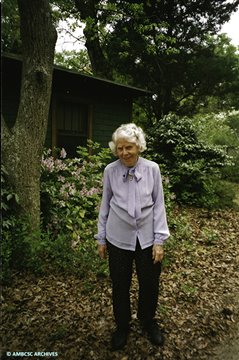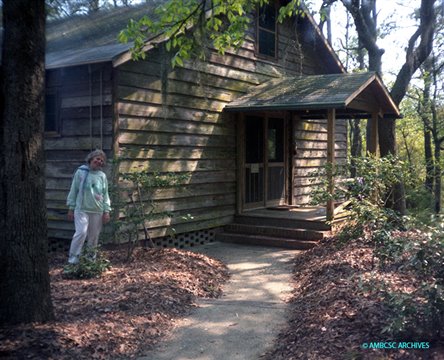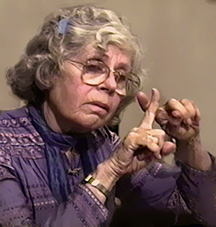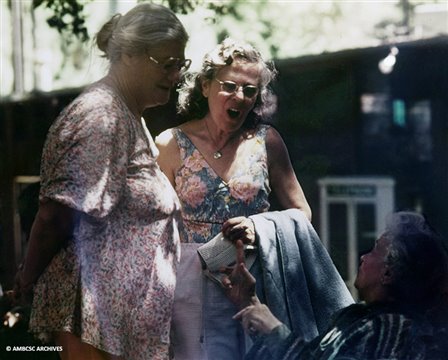 Adelel Wolkin
A Conversational Interview on
Meher Baba Treasures